Saving Lives in Ukraine: StemRad Makes Radiation Shield Donation
04.05.23 | Wednesday | Liv Weiner
StemRad, a leading developer of Personal Protective Equipment (PPE) for ionizing radiation, has recently made a significant contribution to Ukraine's radiation safety efforts. The company generously donated 20 of its cutting-edge 360 Gamma radiation shields to Ukrainian first-responders stationed in close proximity to the Zaporizhzhia nuclear power plant. This donation has been matched by the generous donations of US-based philanthropists, who have donated an additional 40 shields in aggregate. These donations will provide these courageous first-responders with a critical first line of defense against radiation exposure, which is essential in preventing a widespread and highly catastrophic nuclear disaster, similar to the one that occurred in the aftermath of the 1986 Chernobyl meltdown. By providing this necessary protection, StemRad's radiation shields are helping to ensure the safety of these brave individuals while they carry out their essential duties, and ultimately protecting countless lives.
The StemRad 360 Gamma radiation shield is a unique and patented device that operates on the novel concept of partial-shielding. This technology is designed to protect an individual's bone marrow, which is essential for survival in the event of high levels of gamma radiation exposure. Specifically, the 360 Gamma shield provides targeted protection to the haematopoietic stem cell niche, ensuring that the body can survive the radiation exposure. While providing exceptional protection, the device remains lightweight and wearable, allowing for maximum mobility. This means that the wearer can still carry out their essential duties while being effectively protected against radiation exposure.
The Imminent Danger in Ukraine
Over the past year, Ukraine has been subjected to extensive bombing throughout the country. The Zaporizhzhia nuclear power plant, the largest in Europe, was hit by shelling that caused dozens of explosions. This alarming situation highlights the very real possibility of a nuclear catastrophe, which underscores the urgent need for specialized radiation shielding. This essential protection enables first-responders to act swiftly and effectively in order to avert disaster. Without the use of radiation shielding, first-responders would be exposed to high levels of penetrating gamma radiation for an extended period of time, which can result in Acute Radiation Syndrome (ARS) and eventual death. Therefore, it is crucial to provide first-responders with the necessary equipment to ensure their safety while they carry out their critical mission.
Ensuring the Safety of First-Responders
First responders play a crucial role in safeguarding civilians from the aftermath of nuclear disasters. These brave individuals risk their lives to protect us, and it is essential to ensure their safety while they carry out their duties. In Ukraine, first responders may need to enter a nuclear power plant that has been hit by extensive shelling, exposing themselves to life-threatening radiation. To prevent the spread of deadly gamma radiation, they must approach the source of ionizing radiation directly. Equipping them with StemRad's 360 Gamma radiation shields provides an effective way to protect these heroes while they carry out their mission. By providing this necessary protection, first responders can ensure the safety of millions, without endangering their own lives.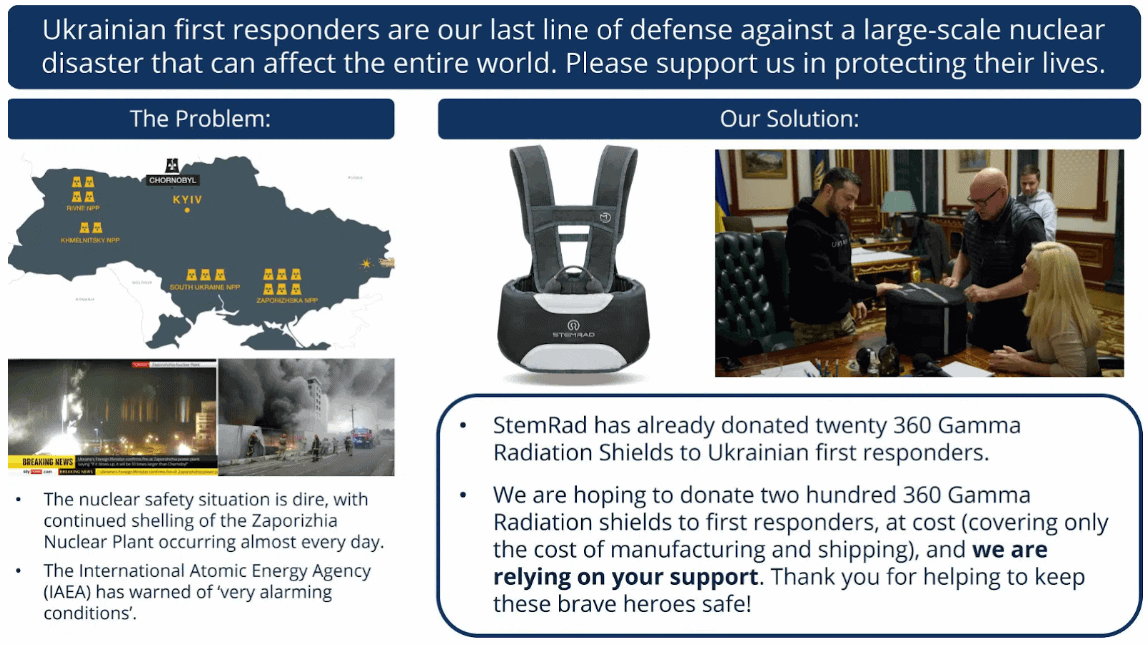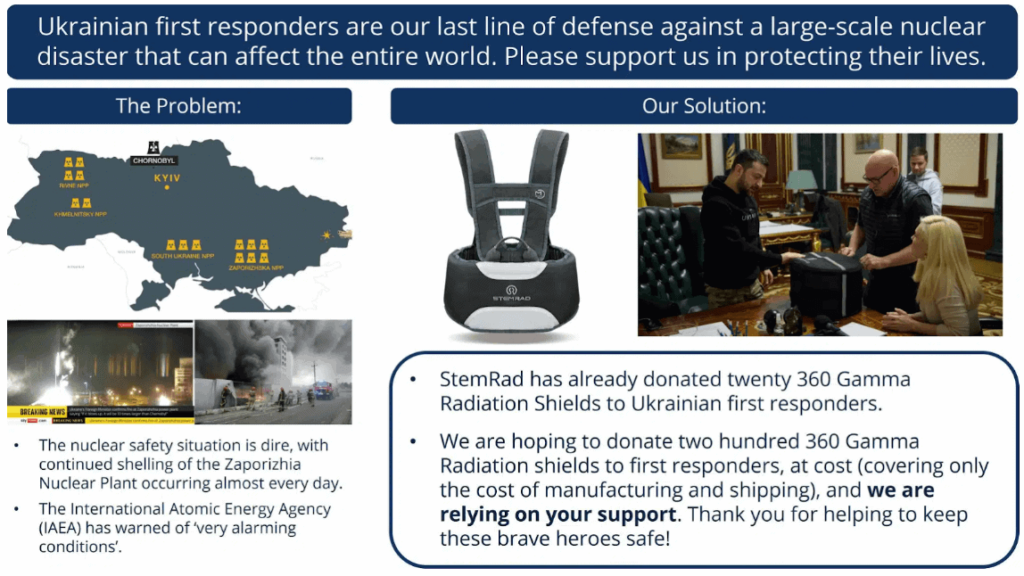 StemRad's Commitment to Ukraine
StemRad's 360 Gamma radiation shield donation program was launched in November 2022, with the aim of providing Ukraine's first-responders with life-saving radiation protection. As part of the initiative, StemRad donated 20 of its radiation shields to the Ukrainian government in Kyiv. The donation event was attended by StemRad's CEO, Dr. Oren Milstein, and retired astronaut and StemRad advisor, Scott Kelly. During their visit, Scott Kelly personally presented the first radiation shield to Ukrainian President Zelenskyy, as depicted in the photo above. In discussions with Ukrainian Emergency Response officials, Milstein learned that 200 of StemRad's 360 Gamma radiation shields would be needed for full protection of first-responders.
Through its donation program, StemRad is providing an opportunity for donors to contribute towards this critical cause, thus playing a vital role in safeguarding the lives of Ukraine's first-responders and millions of people residing in Ukraine and neighboring countries. StemRad's contribution to the radiation safety efforts in Ukraine demonstrates the company's commitment to using innovative technologies to improve public health and safety. The 360 Gamma radiation shield is just one example of the company's dedication to developing cutting-edge radiation protection solutions.
To support StemRad's donation initiative in Ukraine, please click here.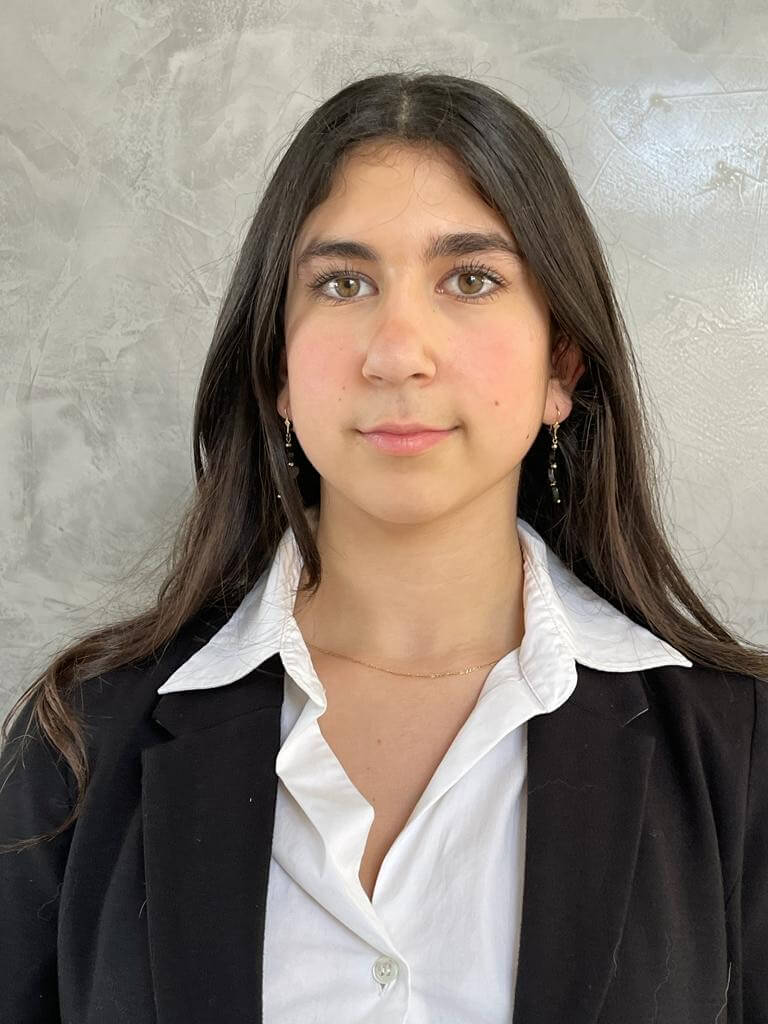 The author creates written content for StemRad's blog.